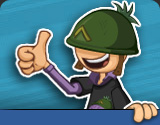 Sarge Fan!
is a customer in the Papa Louie games, and is the only character to have puncuation in their name. As you can see, he idolizes Sarge, and as such loves onions and gummy onions, although blueberries and rasberries make an okay substitute.
Apperance
Edit
Sarge Fan! wears a helmet just like his hero's and a Sarge shirt with purple sleeves. The helmet covers the onion fan's eyes. Radlynn does have similar facts in appearence.
This mischievous customer is absolutely obsessed with Sarge and can always be found parading around town in his green army helmet. With the help of Quinn, he had his name legally changed to Sarge D. Fan. When Sarge Fan heard of Papa's Freezeria opening up, he personally petitioned to have his favorite candy, Gummy Onions, on the menu!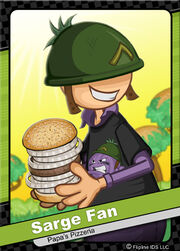 He is obsessed with onions.
He is the only customer to have a punctuation in thier name.
His name tells that he is a fan of Sarge.