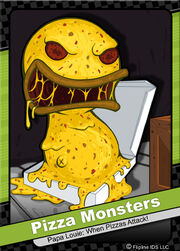 Pizza Monsters
are the main enemies of Papa Louie: When Pizzas Attack. They have the ability to spit cheese at Papa Louie, although this backfires because the chef can hit them back with his paddle.
These fiends are one of the most important members of Sarge's Army. The player must defeat and collect all of the varying numbers of monsters and bring them to the end cage to free the loyal customers.
Ad blocker interference detected!
Wikia is a free-to-use site that makes money from advertising. We have a modified experience for viewers using ad blockers

Wikia is not accessible if you've made further modifications. Remove the custom ad blocker rule(s) and the page will load as expected.