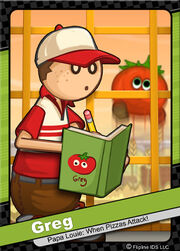 Greg is a fun-loving kid who lives in the apartments above Papa's Pizzeria. As with other customers, Greg was held captive by Sarge in a gilded cage for many days. During that time, he observed dozens of wild jumping Tomatoes in the area. Greg studied them, taking detailed notes and sketches. After he was rescued by Papa Louie, Greg became the go-to kid for any and all Tomato facts.
Ad blocker interference detected!
Wikia is a free-to-use site that makes money from advertising. We have a modified experience for viewers using ad blockers

Wikia is not accessible if you've made further modifications. Remove the custom ad blocker rule(s) and the page will load as expected.