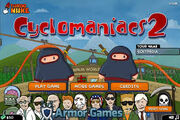 Welcome to Cyclomaniacs Wiki!
HI THERE!
Welcome to Cyclomaniacs Wiki!Here you can find the characters from Cyclomaniacs Versions.Like Robot Jam, Cyclo King,Mr.C,Presta The Clown,Bad VIcking,The Big G, Flying Squirell,Longanimals,Princess Jessica,Sarge,Gregjitsu,Gregzilla etc.Be sure thet you read the riles!
The Rules:
Edit
Just reaad them good!
Don't make any fake informations
Don't hurt any of the users
Don't break any relationships of users
Don't delete any page that users has make
If you make a fake information,the page will delete
Don't make any bad things in this wiki.Please!
Top Cyclers
Edit
Cyclo King
The Prof
Gregater
Ad blocker interference detected!
Wikia is a free-to-use site that makes money from advertising. We have a modified experience for viewers using ad blockers

Wikia is not accessible if you've made further modifications. Remove the custom ad blocker rule(s) and the page will load as expected.